The Power of a Network: a Smithie Entrepreneur Disrupts the Athleisure Market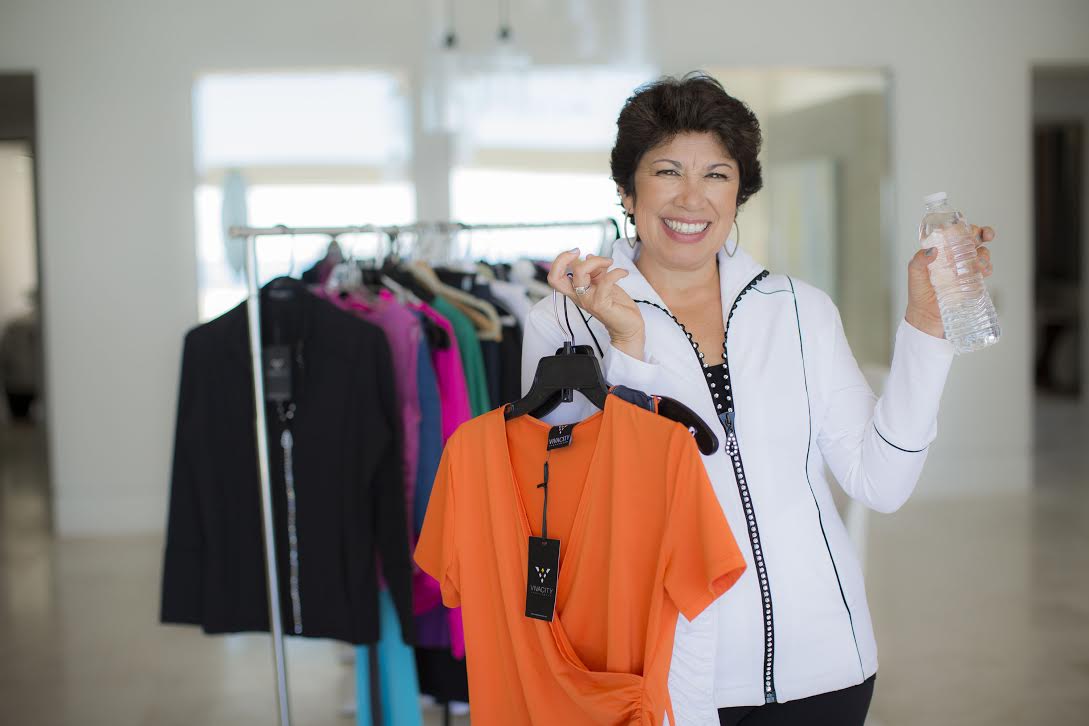 Founder & CEO of Vivacity Sportswear
As a Senior at Smith trying to figure out life after graduation, Vivian Sayward '88 had no idea what she wanted to do and was unsure of where to start first. Like any savvy Smithie, she utilized the resources of the Career Development Office, now the Lazarus Center. Vivian began connecting with alumnae in the hopes of receiving guidance and direction in what she could do next. Although she graduated that summer without any resolutions, she kept faith and took the time to figure things out. The power of the Smith network held true as Vivian soon began talking to an alumna who worked at a high-tech company in HR. Vivian applied for a position at the same company and soon found herself in her first gig out of college thanks to her tenacity and the strong alumnae network. "Looking back, Smith made an effort to connect us with alums…this was 30 years ago so it was not a program like the Conway Center — but they did make an effort!"
After some time working as a young professional, Vivian felt stuck and knew she needed to embark on a journey that would undo that feeling. This is when she had the idea that she could pursue her MBA. Vivian knew that finance and accounting were not the end goal she had in mind for her career and hoped that the pieces would fall into place while in graduate school. Faith and optimism remained in her toolkit as she sought inspiration from her peers and was fortunate to work for a company that offered to help support her education. Funny enough the impact of Smith in the world continued to follow her throughout this experience. Vivian shared a story of how she was finishing her MBA and working at a biotech company when one day, somebody saw the Smith sticker on her car and asked "Wait, who's the Smithie here?" That person ended up being the VP of Business Development whose team she joined soon after graduation and who would become one of her most important mentors.
Vivian always knew that entrepreneurship was in her blood. Her father and brother are both entrepreneurs so having this background and a love for building things made the path come naturally to her. She courted the typical corporate role at a larger company for a while to gain the experience, but her passion for learning and curiosity told her that it wouldn't be long term. The idea for a women's line came while accompanying her husband on trips to the golf course. Vivian realized that the athletic clothing industry, especially for golf, didn't market toward women and she felt uncomfortable with what they did offer.
"One day my husband turned to me and said, 'do something about it if it really bothers you' and I thought 'wow that's a great idea' and that's how it all started."
The road to starting a business on her own wasn't easy and definitely came with many challenges. Vivian says that the first steps involved talking to people. This method payed off as she met her first business partner through this strategy, but the honeymoon was short lived as Vivian realized that the two had very different visions. She continued to explore her options while working on her consulting business. Having a strong women's network didn't hurt either and with the help of a friend who around this time started a collaborative and open coworking space for female entrepreneurs called Hera Hub, Vivian was able to connect with her eventual creative director and trademark attorney. One of the harder challenges, she says is "sometimes doubting yourself and not trusting your intuition. You know a lot more that you think and yes you don't know everything, and you will make mistakes, but you will learn from your mistakes early and hopefully they won't be too expensive [laughs]."
When asked about what makes the products in her clothing line, Vivacity Sportswear, standout, Vivian cites quality, easy care and size range (misses and plus sizes) as major drivers. The brand has created #fitknowsnosize to highlight that not all women are created with the same shape and the importance of being aware of this when representing a diverse group of people.
"My family is from South America, and I am not the typical Southern California blonde and blue eyed stereotype. That's not most people in this country either so we are trying to push that message."
But Vivacity doesn't just stop there. Vivian says that the dream goal is becoming more sustainable. The fashion industry is one of the main polluting industries after petroleum and her company wants to change that. "We are working with innovative textiles, for example — technical fabrics that are made out of plastic bottles that perform" (pictured above). Vivacity recognizes the environmental problems we face and is using its power to push back.
Entrepreneurs in the fashion industry face a unique set of challenges, such as the fragmentation of the industry as well as the need to differentiate one's brand. As Vivian explain, the industry is still a bit of an 'old boys' network, which makes it more difficult for Vivian to sell a women-driven mission. To overcome this challenge, Vivian often seeks other avenues by listening to her customer base and using the power of her network on LinkedIn. Taking the leap is risky, but what Vivian shows is that a great idea combined with even greater connections can lead to a successful outcome. For entrepreneurs looking to enter the business of fashion, Vivian gives critical advice: "I think it's always pivoting and understanding the market…you can't be everything to everyone, so really try to find the niche market."
Vivian Sayward '88
Vivian Sayward received her Bachelor of Arts in Economics and French Studies from Smith College in 1988. She is the founder of Vivacity Sportswear, an inclusive women's clothing line that works with innovative fabrics and designs to create long lasting quality products. Vivian brings over twenty-five years of business development, marketing, finance management, and startup experience to all her endeavors.
Connects with Vivian on LinkedIn